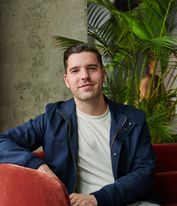 Contact your broker when you like, as often as you like, at no charge
Our brokers are an experienced team, with decades of collective crypto experience.
We deliver a personalised service for crypto investing where you can talk to your broker any time, getting the latest insights on crypto trends and news when you need it.
Jackson Zeng
Chief Executive Officer
Open your free account today.
Get started in minutes, with your personal broker available to execute your trades when you need them
Crypto Stored Safely
Secured by Fireblocks
Terrific firm to work with! Professional and responsive. In today's day and age, with toll free support lines, the most you can hope for is a short hold time to talk to someone who really can't help you. NOT at Caleb & Brown. I have a direct phone number to my broker and they are terrific! Would recommend to anyone.

Doug Hanes
Recently Traded with C&B
Simple,
transparent pricing
No account or signup costs
No obligation to trade, accounts can be used at your leisure
No fees to talk to your broker
No fees on spreads, deposits or withdrawals
One flat fee for buy, sell, and swap orders, regardless of the asset or complexity of the trade
Access institutional grade liquidity across hundreds of digital assets
#

Name

Price

Retrieving latest trending coins...
We list over 250 digital assets. Not yet a client?